"Welcome to prison" is the writing on the wall that surrounds Moria, the refugee camp in the island of Lesbo, Greece, where over 9,000 people live in a space of 3,100, and where 10 year olds children attempt suicide.
"THERE HAS BEEN AN INCREASE OF CHILDREN SUFFERING FROM PANIC ATTACKS, SUICIDAL THOUGHTS AND ATTEMPTS TO TAKE THEIR OWN LIFE"
says Alessandro Barberio, a psychiatrist from Doctors Without Borders (MSF), who operates in the clinic of Mytilene: physician specialized in emergency management, he affirms that Lesbo reminds him of an "asylum of other times".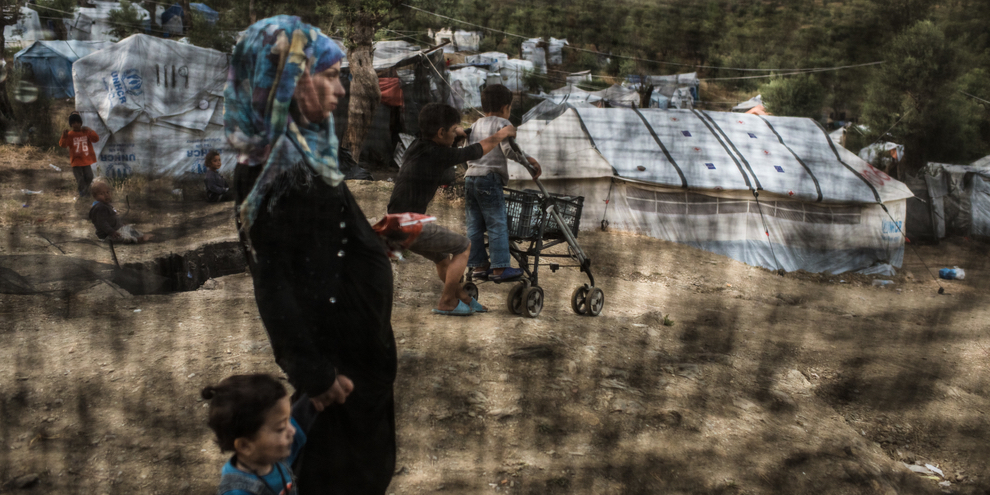 Here Mahmoud, a 12-year-old boy, has tried twice to hang himself. Unaccompanied children, that according to the Greek law can be detained for 25 days waiting for a placement, commit acts of self-harm, such as cuts on their arms or body, desperate after being segregated for months in the hell of Moria. "The camp is dangerous especially for children. Every day we treat conditions relating to hygiene such as vomiting, diarrhea, skin infections and other infectious diseases, and then send them back in the same dangerous and at high risk conditions: a mix – says Declan Barry, MSF medical coordinator – who represents a perfect storm for both the health and the well-being of children".
THE RECEPTION CENTER OF MORIA IN GREECE WAS BORN IN 2015 AND IS THE FIRST DOOR TOWARDS EUROPE
for those who flee from war, it should be transit point for the refugees to spend a few days but has turned into a "prison", after the agreement between the EU and Turkey in 2016. An hotspot where the applications of the asylum seekers are assessed and those who do not qualify to be transferred on the mainland will be expelled: they are going to be sent back to Turkey (where they risk ending up in prison) or in their original country if it is considered as not dangerous.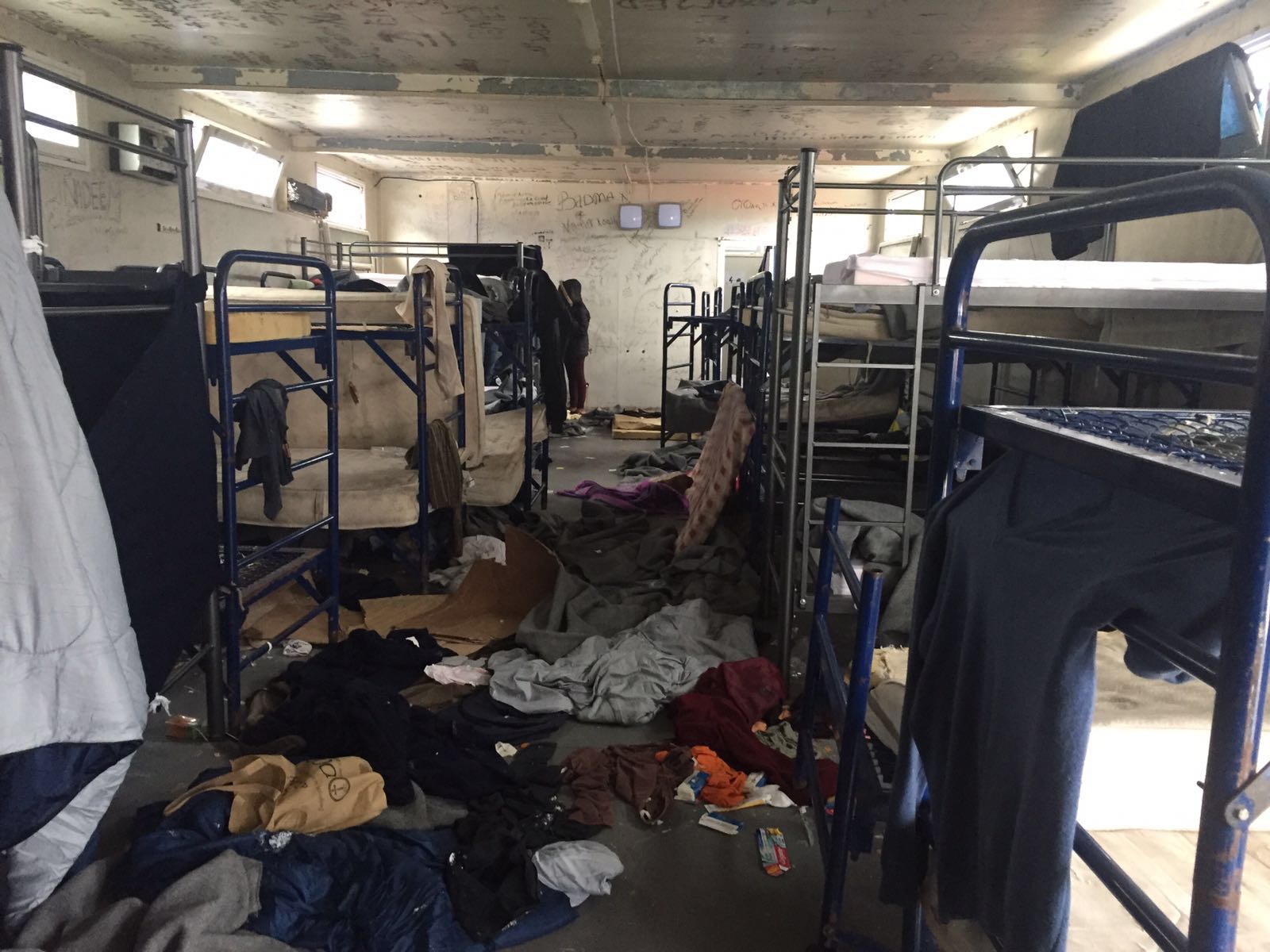 However, the times to get a response to the request, which most often is rejected, are very long with waits of months, sometimes years, and usually the "vulnerable subjects" (disabled, unaccompanied minors, pregnant women, victims of rape or torture, people with serious disorders, etc.), are not always recognized and transferred quickly. A forced stop in inhumane conditions that generates overcrowding, which now has exploded into chaos, in the name of the EU's containment policy and without considering the Geneva Convention, which should protect those who have reason to fear persecution from repatriation.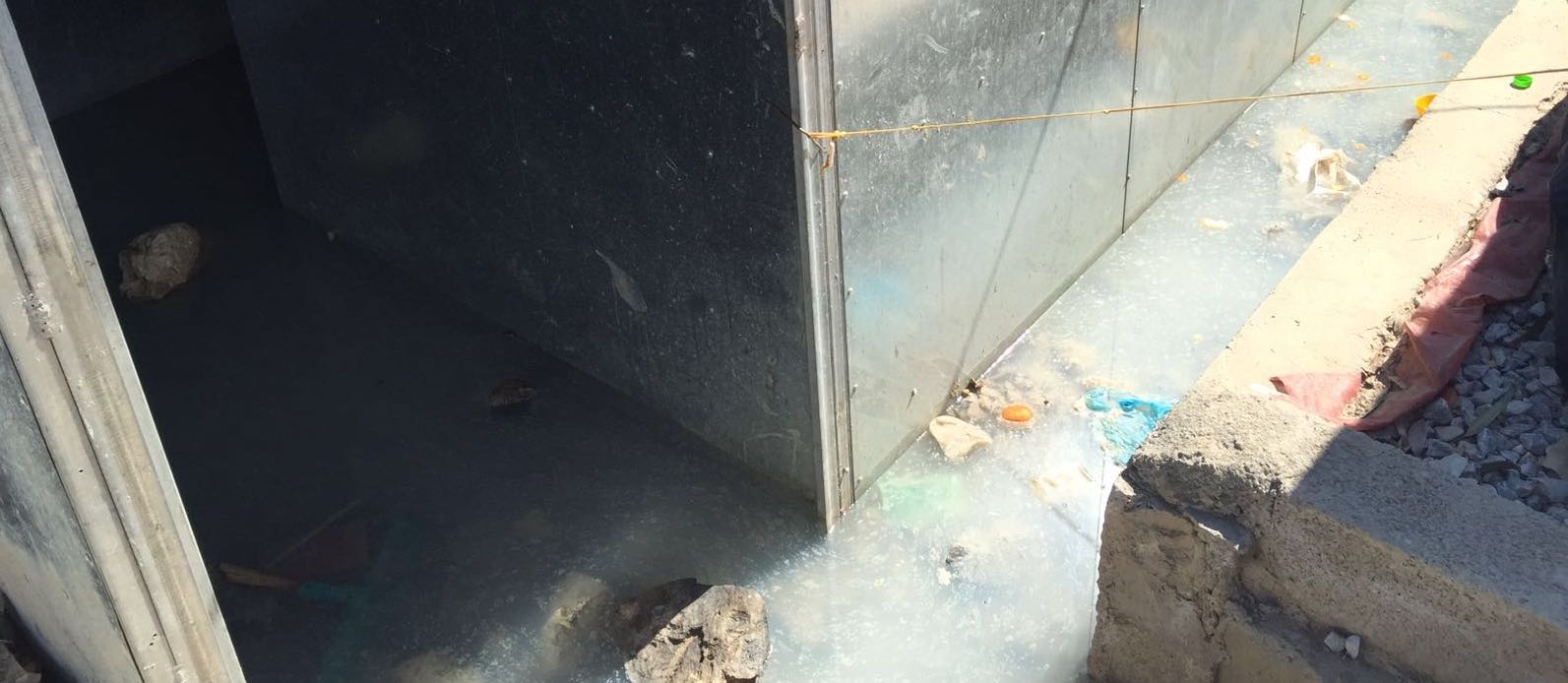 The bathrooms of Moria
"Most of the refugees arrive with symptoms including hallucinations, agitation, confusion, disorientation, severe suicidal impulses – adds Barberio – since many of them are victims of torture or sexual violence and suffer from post traumatic stress disorders. When they arrive here, they are blocked for a long time, and the symptoms explode", creating a high percentage of people affected by mental illness. The hotspot, which was in origin a military base, is placed on a hill with containers designed for 5 or 6 people, but today house up to 25 people. Protected by a wall, barbed wire and large gates closed with padlocks, Moria is controlled by policemen that record entries and exits, as in a prison.
INSIDE THERE IS A BATHROOM EVERY 72 PEOPLE AND A SHOWER EVERY 84
there is only cold water and taps are active for 30-40 minutes 3 times a day with thousands of people who flock to collect the little amount of water in bottles. The showers and toilets emanate a smell so strong that makes them impossible to be used and the showers are full of human feces: that is why children are often washed naked outside and remain stranded in the cold, while women avoid going there for the many physical, sexual and verbal assaults from men who go around their latrines.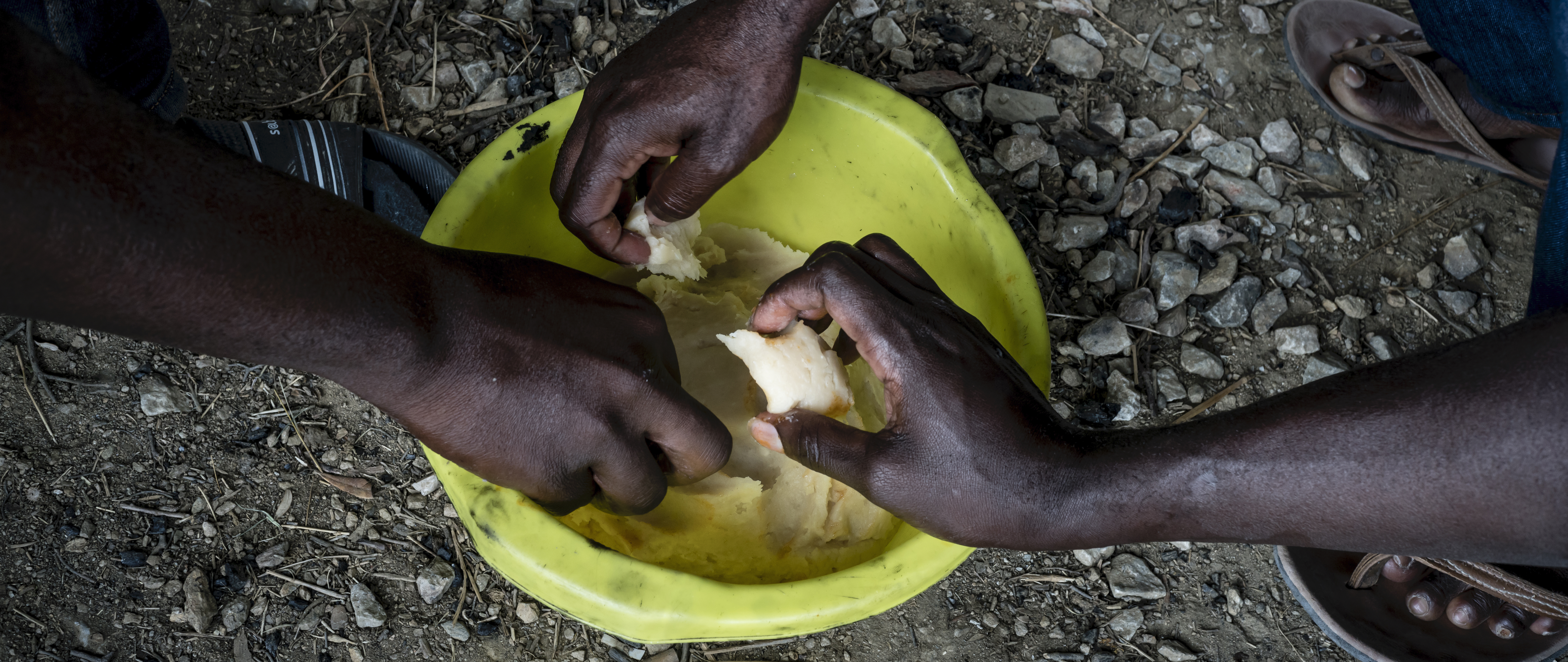 Tents in Moria's camp
However, the camp doesn't end here since many end up camping outside the walls, due to the overcrowding. Olive Grove is a tent city without electricity, without water or services or kitchenettes, where in winter, because of the rain, the cold and mud invade the tents. Nevertheless, according to Yasser, who lives here with his family and his pregnant wife, it's more dignified live there because "Every night in the camp there are fights – Yasser says to HRW – and for women and children is very dangerous to live there."
WOMEN AND GIRLS TRAPPED IN MORIA ARE OFTEN FORCED TO SHARE THE TENTS AND CONTAINERS WITH MEN PUTTING THEMSELVES AT RISK
and it was the High Commissioner of the United Nations for Refugees (UNHCR) who expressed his strong concern by stating that the Greek islands women and children refugees face a high risk of assaults and sexual violence in the shelters. It's the case of Cynthia, who at 18 years old has been attacked several times by an asylum seeker because she was not wearing Islamic dresses "Once he pushed me against a tree by holding me from the throat – she says – but I have not reported it because I'm afraid that if I do it and he's reprimanded, his friends will hurt me. "
Prefabricated in the field of Moria
A huge detention center the one of the Greek islands in front of Turkey (Lesbo, Chios, Samos, Kos and Leros), where 20 thousand people fled from Syria, Afghanistan, Iraq, Sudan and Congo are gathered together in inhumane situations waiting to reach Europe, often without any result. The Al Salih family, escaped from Syria at night under the ISIS bombing, arrived by walking in Turkey, managing to cross the border after three months and 20 attempts, and to cross the sea after a month and 10 rejections, to finally arrive at Moria with the risk of being sent back. "It was very bad getting here -said the head of the family – it would have been better to die in Syria."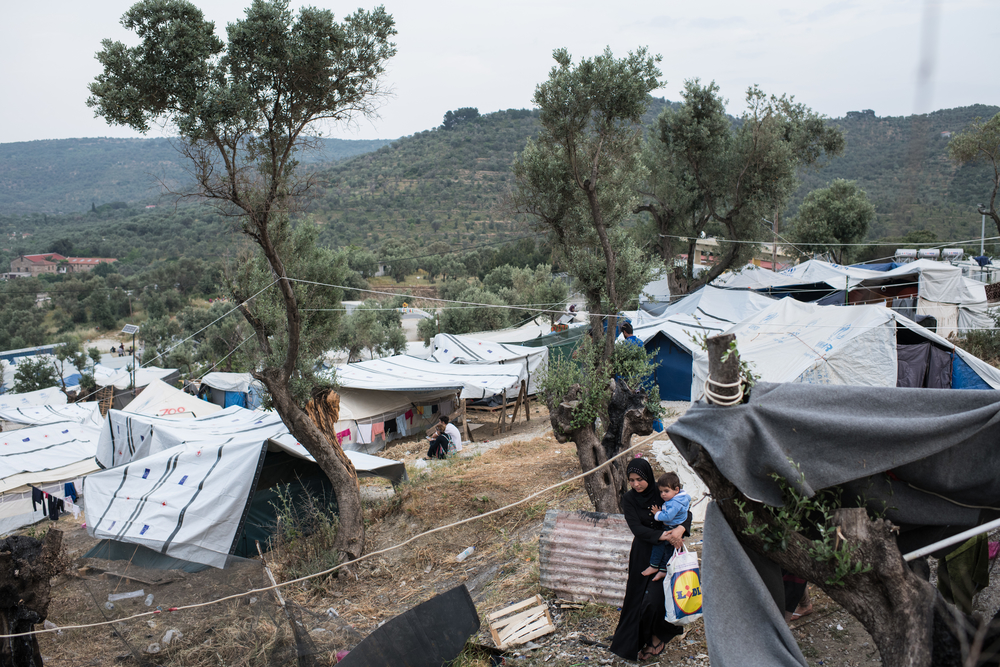 Olive Grove, Moria
Meanwhile, in recent days, Amnesty International presented a report concerning the female population of the Greek refugee camps, entitled "I want to decide my future: from Greece, the voices of women who have lost their roots". A dossier that collects the voices of women, that after the closure of the borders in 2016, were the first victims of traffickers, from whom they have suffered all kinds of violence without being able to report it as "illegal". Then, once they landed on the European shores of Greece, they have found themselves in the Aegean open-aired prisons.
A situation for Amnesty International has asked the immediate intervention of the EU and the greek government in order to assist refugees with dignity, which are composed for the 60% by women and children, and create a safe reception, adding its voice together to the MSF (Médecins Sans Frontières), that have been asking for three years to put an end to the euroturco agreement, evacuating "immediately vulnerable people in safe accommodations in other European countries".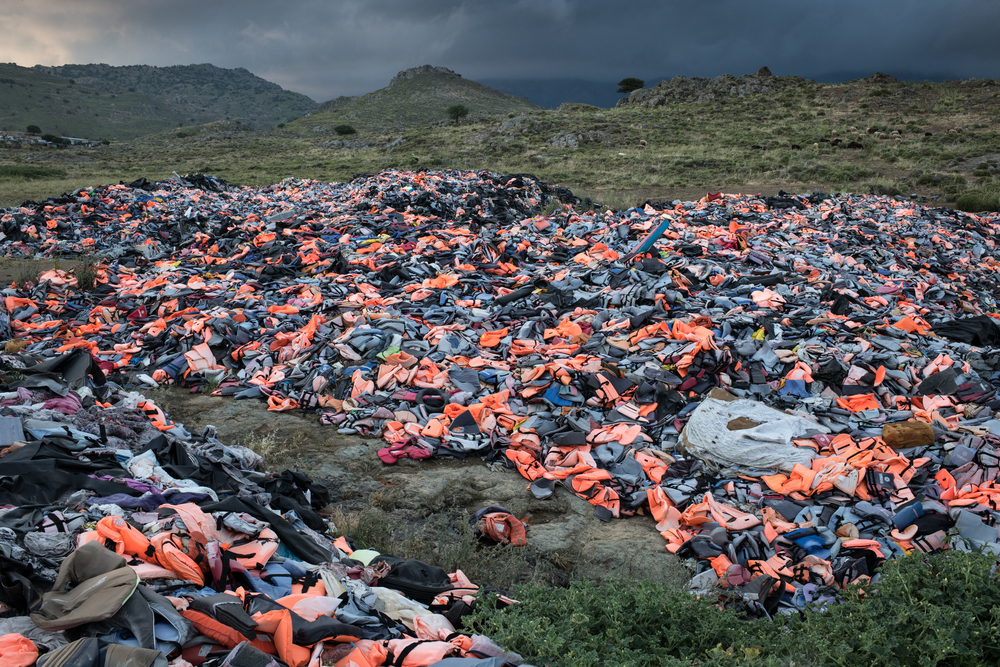 Refugees in Moria
In the meanwhile on Monday the Greek Supreme Court ordered a preliminary inquiry entrusted to the financial power of attorney, concerning possible abuses in the management of EU funds given to Athens in order to face the migratory crisis of 2015-2016: a survey came right after the controversies of some right-wing newspapers in which the government of Alexis Tsipras was accused of unlawful appropriation of funds thanks to the interview of the head of the refugee's reception center, Andreas Iliopoulos, who spoke of illegality on the newspapers.
________________________________
The pictures of the Moria camp have been kindly given by MSF and Human Rights Watch © All right reserved