It daily appears on the newspapers' pages and it's often used as mere political propaganda without addressing the real cause or a realistic plan of action for a phenomenon that is growing, caused by the continuing conflicts coming from that very Western world in which these people look for shelter. We're speaking about the migration flows, which are not recent but they were born a long time ago, since humanity is the result of the displacement of entire populations.
THIS TO SAY RIGHT FROM THE START, BEYOND ANY SPECULATIONS, THE MIGRATION FLOWS CAN NOT BE AVOIDED AND CAN NOT END, NONE OF US CAN STOP THEM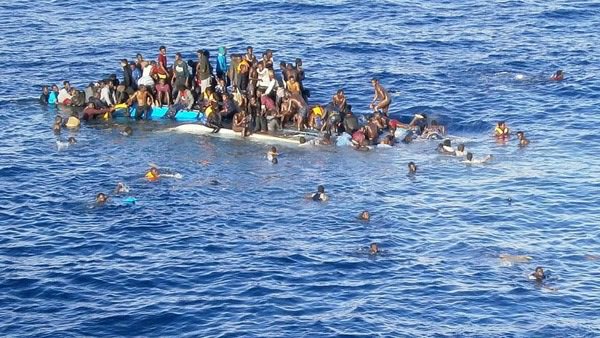 To prove this statement, there is not just the history of mankind but also the United Nations. In 2015, during a conference with the press in New York, the UN special rapporteur and international law professor, François Crépeau, with the President of the Committee on the protection of migrants' rights and university law professor, Francisco Carrión Mena, stated that "Using power will not stop the immigration global crisis" since that not only "humanity is the result of migration, but we are the result of an endless mixture of different populations migrants precisely". "The separating boarders from one country to another are less substantial and they lose importance if there is a deep inequality in terms of conditions and life standards between one another. It's absolutely normal that migrants, seeking for security and hope for them and their families, are willing to leave their homes".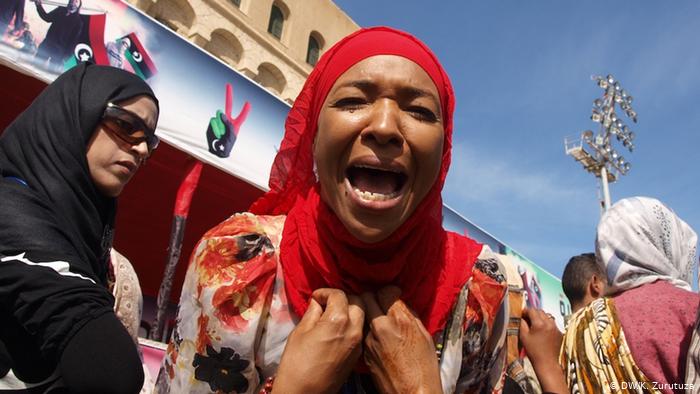 Today, around the world, there are 250 million people, according to the International Organization for Migration, that don't live in their country of birth (2018 report). There is now a large number of reports that in the last years has testified the migrants's condition, moving from both Middle East and sub-Saharan Africa and desperately attempting to reach Europe. Walking through the Balkans, or crossing the sea, they land on the Greek and Italian coasts fleeing situations of conflict, imprisonment, torture, violence and imminent danger for them and their beloved ones. Two years ago, a report released by Oxfam Italy, Borderline Sicily and Physicians for Human Rights (Medu), named "Hell beyond the sea", brought the attention to the violence and the mistreatments existing in several Libya detention centers, describing them as
BEATINGS, SEXUAL VIOLENCE, ELECTRICAL SHOCKS, FOOD AND WATER DENIAL, CONSTRAINT TO UNNATURAL POSITIONS, LISTENING TO CRIES OF PAIN FROM coming OTHER prisoners AND OBLIGATION TO ASSIST TO EXECUTIONS
Libya is the required transit point for those who escape from already difficult situation and the 84% people interviewed in the report stated that they suffered from inhuman treatments, including brutal violence and torture, and were imprisoned in official and unofficial places of detention. A true living hell where people from other terrible places like Niger, Mali, Ethiopia, Sudan, Somalia and Chad, also arrive. Many are women, girls and children who escape from forced marriages, prostitution, human trafficking, enslavement and violence of all kinds.
Women who have been victims of extreme violence, torture and rape firstly in their country of origin, then during the migration routes, and in the end in places of detention and seizure in Libya
Those are places where no institution of authority meets the standards of human rights protection. The 2017 report criticized the agreement signed between Italy and Government of the Libyan National Unity with the aim of bringing people back to a country still dominated by chaos and death, and the centers for migrants are described as concentration camps, where there are systematic abuses perpetrated on those who run away from war and poverty and there is huge market of open slaves.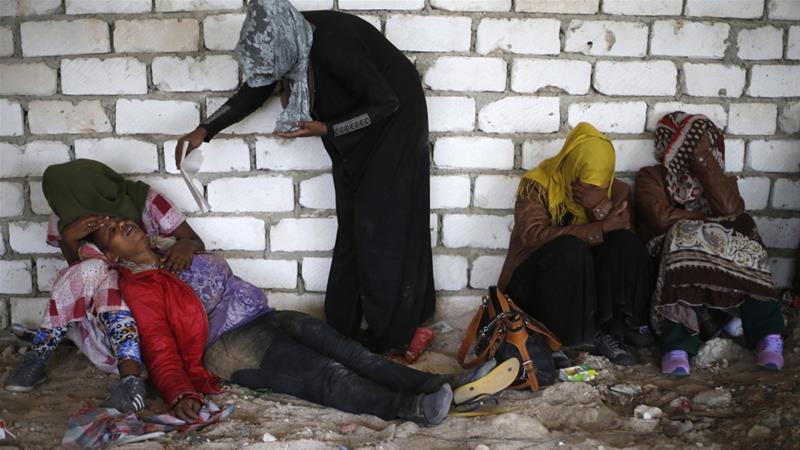 Agreement that will be automatically renewed for other three years and, if it's not going to be suspended, it will continue to make Italy an accomplice to the crimes against humanity for which Libya is responsible. Here, women are raped daily and tortures are needed in order to force the family members to pay significant amounts of money.
A SYSTEM THAT started FROM sinai desert, WHERE TRAFFICKERs HAVE BEEN KIDNAPPING MIGRANTS AND TORTUREd THEM TO force MONEY FROM THEIR FAMILIES, TO THE POINT THAT SINAI HAS BECOME A PROTOTYPE for LIBYA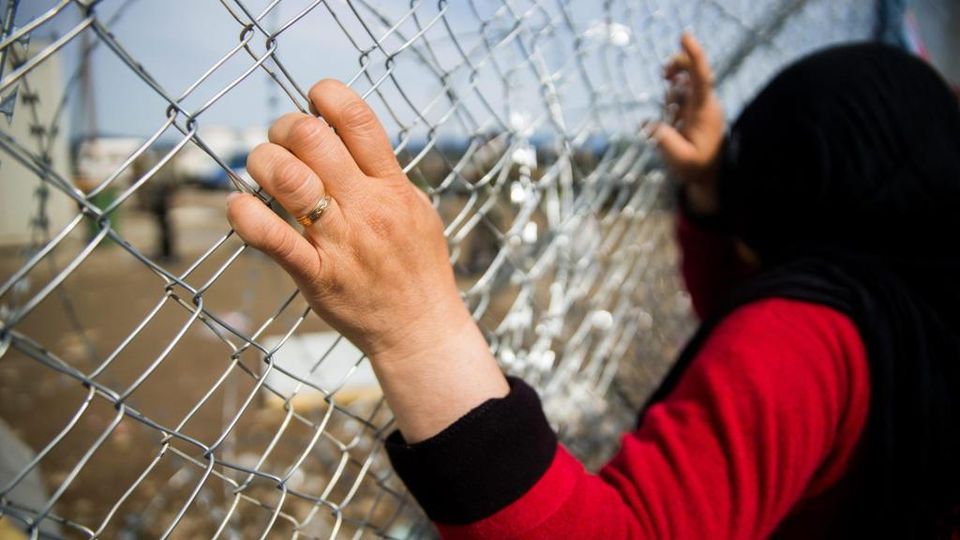 The protagonists of all this are not only groups of highly organized traffickers or impromptu criminal groups, but also the police, militias, ordinary civilians who can exploit migrants as if they were slaves. It's a huge market where especially women are very required, since they can make a huge income, as confirmed by the International Organization for Migration (IOM) that talks about the human trafficking affecting the sub-Saharan migrants who are traveling along the African continent. They search for hope of a better life in Europe, but then they find themselves reduced to slavery from the Libyans, with the support of Ghanaians and Nigerians, while women are bought and forced to become sex slaves.
In a report presented by the UN Commission for Refugee Women, who interviewed hundreds of survivors to the Libyan hell, it is said that "The cruel and brutal sexual violence, as well as the torture, is consumed as a consolidated practice both in clandestine prisons and in the official detention centers of the Libyan government. But rapes are a routine even during random arrests and forced labour. A slavery which all women are submitted to".
From 2014 the European Union has spent 338 million euros in order to try to stop this wide migration flow, even if in this way, they financed the same Libyan authorities that are perpetrating the crimes of rapes of an unprecedented violence, unspeakable tortures, genital mass mutilations, siblings forced to rape their own sisters or their mother.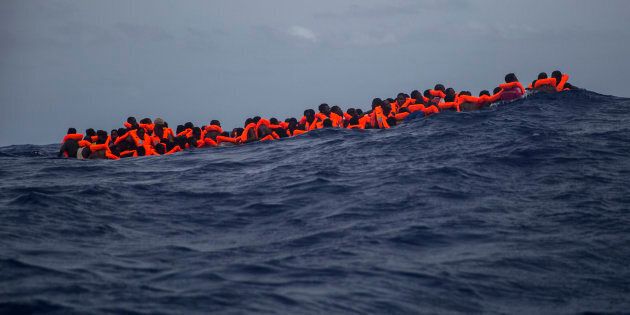 Women and teenagers surveyed between 2017 and 2018 reported of having been raped in Libya and to have seen most of those who were taken away, coming back shocked, wounded and with torn clothes. The rapists were the same people wearing a uniform and raking paychecks thanks to those European Union fundings. "The public authorities, included  the Department for the fight against illegal migration and the Libyan Coast Guard, are accused of being involved in serious violent acts, and those crimes are often associated to a widespread impunity." In the documents available to the Council for human rights, it's possible to read about the violence caused by state officers, armed groups, smugglers, traffickers and criminal groups, inside and out the formal and informal detention centers.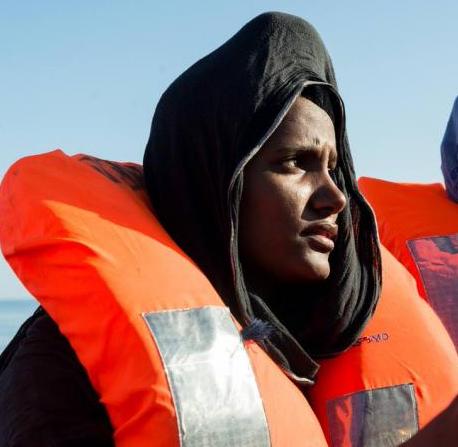 In the last report on the humanitarian situation of migrants in Libya issued by the UN mission in Libya, there are many stories of women that were raped and tortured countless times during all their journey, in despicable conditions. Tortures as those described by a 26 years old from Darfur that has spent three years in Libya: "We were 700-800 people in a big hangar. They shot in the legs of the migrants who could not pay and left them bleed to death. My son, who at the time was five years old, was shot in the head with a big iron bar in order to convince us to pay quickly. I have seen many people die in that place because of the beatings and the starvation". Most of the violence has extortion purpose:
PEOPLE ARE TORTURED IN FRONT OF THEIR FAMILIES, WOMEN ARE RAPED IN FRONT OF THEIR FAMILIES, OR AT THE PHONE WITH THEIR RELATIVES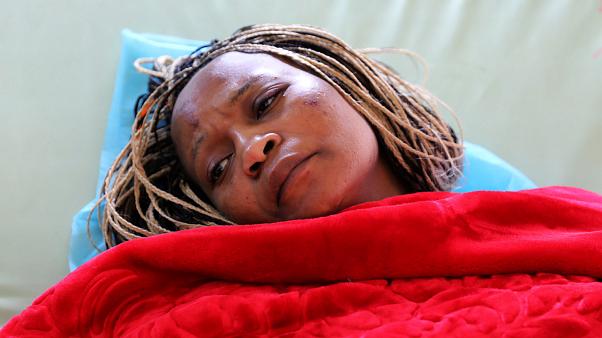 A young mother of three children from the Ivory Coast tells: "I was sold to a criminal group in Bani Walid. They wanted my family to transfer $ 1,000 to an Egyptian account. They poured gasoline on my legs and gave me fire. Still today, I can not walk. They beat everyone and raped the women. My two year old was burned with a cigarette. I have seen many people die, women die also because of childbirth here". The vastest majority of women and teenagers surveyed from UNSMIL reported to having been raped. The United Nations' staff visited the 11 detention centers: it has documented torture, ill-treatment, forced labour and rapes on behalf of the guards. It also reported that women often are held in the structures without female guards, where there are abuses and sexual exploitation: prisoners submitted to searches held by male guards.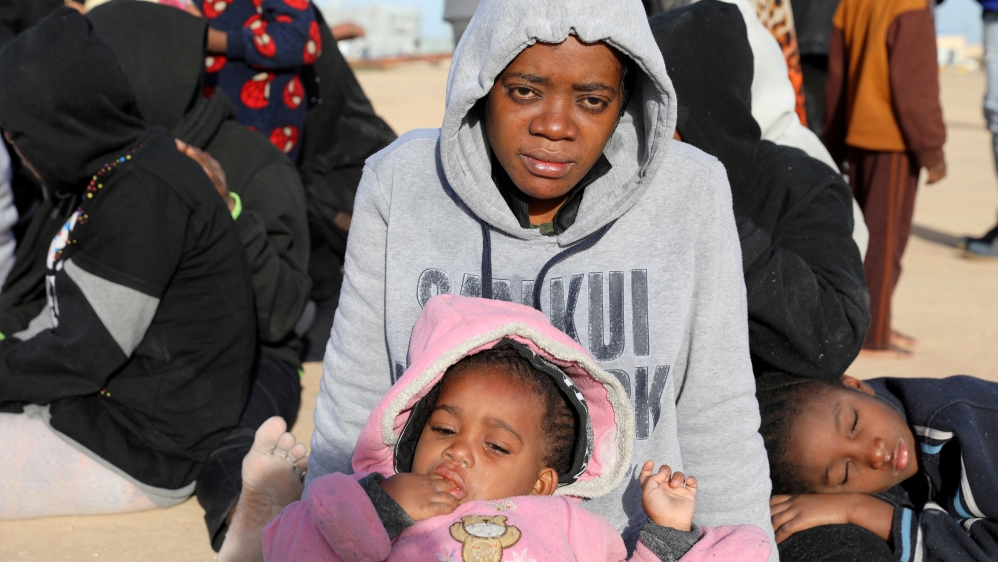 In Libya, Human Rights Watch has documented how the EU's efforts to improve the conditions of migrants have not brought any effect. The Libyan Coast Guard intercepts migrants in the sea and brings them back to the detention centers, where they live in unspeakable conditions. HRW has also detected a large number of minors, even infants, kept inmates and in terrible conditions in the Ain Zara, Tajoura and Misurata centers. They suffer also of insufficient food supply, both for them and for their nursing mothers, and they are often subjected to abuses, sexual assaults and beatings. But why do these women run away and where do they come from?
Many of them run away thinking that they are migrating looking for employments as maids, hairdressers, waitresses. In the reports they talk about their shock realizing they have instead fallen into sexual exploitation by men who force them into prostitution or forced labour for long days with no breaks or payment:
TRAFFICKERS THAT FORCE THEM TO HAVE SEX WITH MEN WITHOUT USING CONDOMS, TO have abortions IN UNHEALTHY CONDITIONS and WITHOUT MEDICINES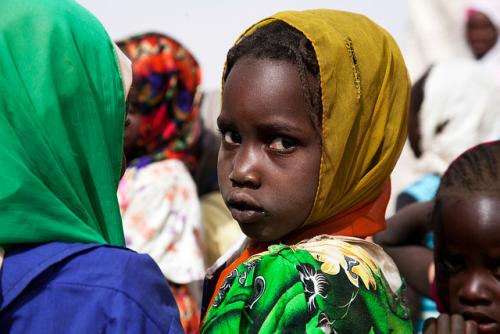 Some survivors described frightening experiences that caused them unimaginable traumas. One woman reported being trafficked and forced into prostitution in Libya when she was 18 years old, and remained there for about three years. She witnessed executions and bombings, being exchanged among the various traffickers, and eventually she got pregnant. Joy escaped landing in Libya because she was victim of trafficking at the age of 12 years, on behalf of a woman who deceived her by saying she would have helped her with her studies, and that instead forced Joy to cook and clean for two months without being payed, then took her to a brothel in Lagos forcing her into prostitution. "One day she took me to a hotel – tells Joy – and went to the owner telling him she brought another girl.
The man said I was too young to be there so he took me back home and bought some medicine to make me get fat
After three weeks she took me back there, but the owner did not accept me. So she took me to another hotel and they accepted me there. I told her, this is not the reason why you brought me here but she said I still had to pay her. She locked me in a room and several men slept with me. I lost count of how many they were. I escaped after two days to end up trafficked in Libya.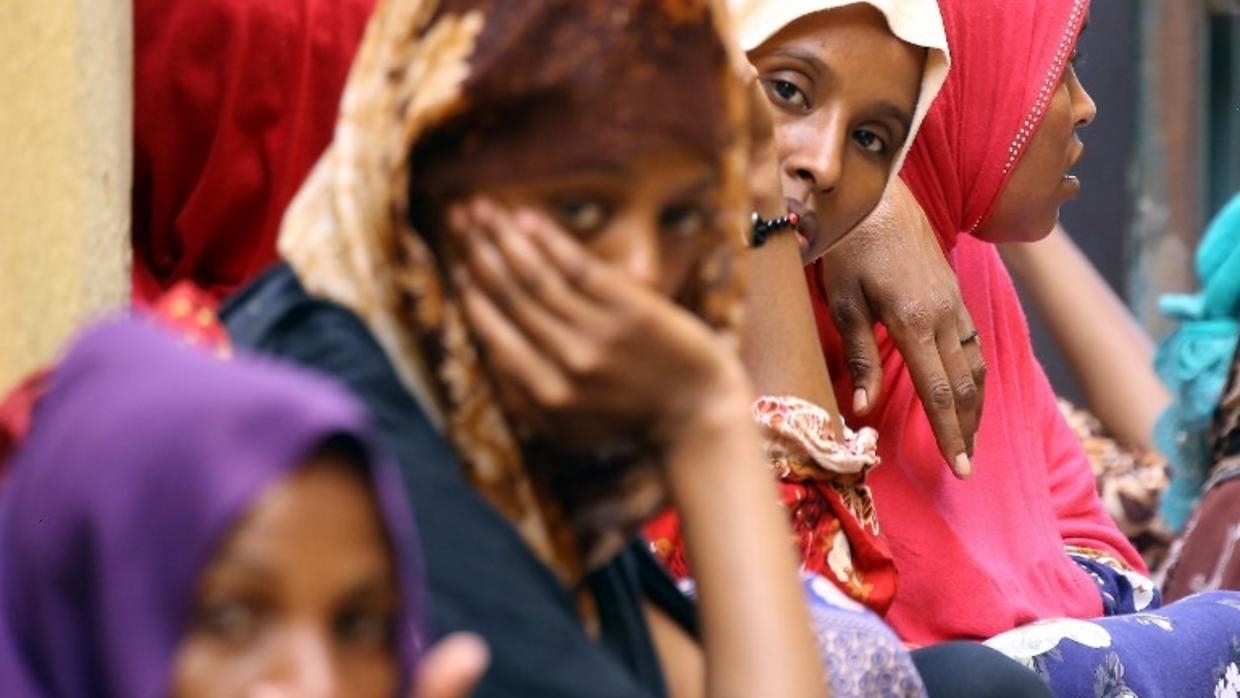 K.M is 27 years old, she's in a Libyan detention camp but she's s from the Ivory Coast, and said: "I ran away from my country because I did not want my daughter to be infibulated as I was when I was a child. I did not want my daughter to suffer like I did. I left my country and I reached my brother in Libya. One day a group of soldiers broke into our home. I was terrified. They shouted and shook their guns.
THEY BEATED ME AND I HAVE BEEN RAPED IN FRONT OF MY DAUGHTER AND MY BROTHER,WHO HAS TRIED TO DEFEND ME, WAS BEATEN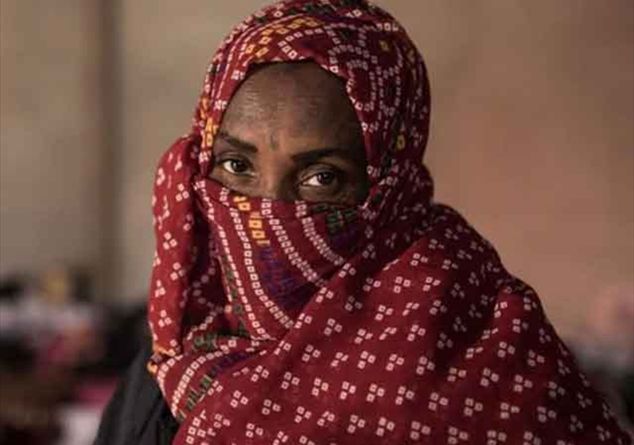 They took my daughter and violated her. Now I'm here and I'm scared. This center is not good for my daughter. I can't sleep during the night, because I don't feel safe. There are many men who drink in this large camp. Many people can reach where we sleep. I'm scared: they can hurt me and my daughter". Blessing comes from Nigeria and she is 24 years old, she arrived in Italy in 2017 after a long travel from Libya: "After the terrible journey in the desert – she says – I was hoping that the situation in Libya would have been better than what I had experienced before. I thought I would have been employed as a maid in a house of the Arabs, as I had been told. They have instead taken me to a center where I stayed for many months. They fed me with rice every day, pouring it on my hands.
THEY SOLD MY BODY TO ARAB MEN AND COULD NOT ESCAPE, WHEN I HAVE TRIED I WAS BRUTALLY BEATEN AND I HAVE BEEN RAPED
I still remember a man with such a strong and revolting smell that when he approached me I threw up. He hit me with a knife on the chest and on the legs in order to force me to do what he wanted. They then took me by the sea, at night. I was so afraid, but I had no longer the strength to react. They made me get on a boat. I had never seen the sea before, and I thought I would die, but God wanted me to arrive to Italy, he gave me a second chance".